Fish pond, fountain & water feature cleaning service contractors
Here at DU Waterscapes, we're experts in fish pond, fountain & water feature cleaning services covering Somerset and across the South West of England.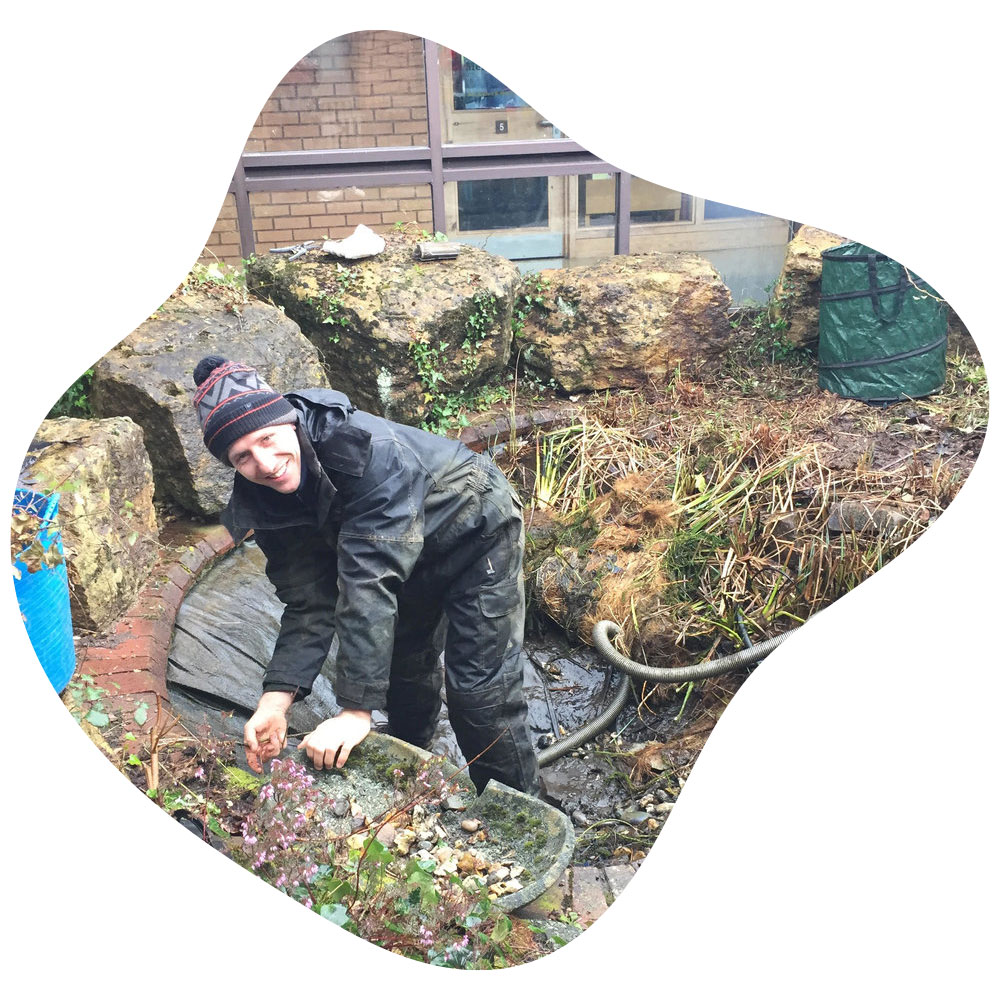 Green water smothering a large pond
As the days lengthen and the temperatures rise your pond starts to come to life, waking up from the dormancy of the winter cold. Everything in your pond is very hungry after limited food availability for many months, there are lots of free nutrients within the water that have slowly sunk to the bottom over the Winter months. Many plants are still dormant and yet to sprout, leaving these excess nutrients for the taking. Something is drained and ready to explode, and consume all these nutrients and that is ALGAE, it just wants to eat and not stop eating!
This is where DU Waterscapes come in, we offer a professional grade Spring and Autumn pond cleaning and maintenance service ensuring to maintain your water feature and make your life a lot easier; so you can just sit back and enjoy living the water gardening lifestyle.
This pond was in desperate need of a Full Drain Down & Clean
The microscopic bugs and beasties that do such a good job of keeping your pond in shape during the warmer months, slow right down in the colder weather and almost become completely ineffective. This means all those dead leaves and twigs, fish waste, other debris and detritus end up in your pond have had all winter long to break down and decompose. Whilst you are sat by your fire not paying much attention to the freezing temperatures outside in your back garden paradise, the accumulated debris slowly decomposes into that stinky gelatinous pond sludge!
As many water feature owners wake from their very own winter sanctuaries and venture outside to their favourite back garden retreat, they discover that their pond has become engulfed in algae, covering and carpeting its way all around the edges. The realisation simply that relying on the filtration unit to do the job won't cut it is very disheartening and knowing that outbreaks will only get worse.
But don't worry, even Mother Nature needs a Spring Clean! Much like clearing the debris from a planting border or scum that has built up on a patio, ponds need a little TLC too. Spring is the best time of year to give them the boost they need to ensure they become the much loved feature within your outdoor living space once again. But saying that, if your pond or water feature is seriously suffering in the summer heat, then there is no time like the present to help your aquatic friends have the ecosystem they deserve.
Let's get started
Looking to get started? Fantastic, we just need a few details from you.
Please fill out the contact form below in as much detail as possible and we will get back in-touch as soon as possible.