Professional Maintenance For All Water Features
DU Waterscapes provides tailored solutions for maintaining and servicing ponds & water features throughout Somerset, Avon, Devon, Wiltshire and Dorset. From one-off cleans to annual maintenance packages, we can cater for all types of water features, from tiny back garden patio ponds to large wildlife lakes.
Water features need different types of care throughout the year and we can offer these as a one off or part of our annual VIP service plan. From a drain and clean in the winter months when life is most dormant, to filter checks and plant management in the summer, DU Waterscapes can tailor their services to your pond's requirements.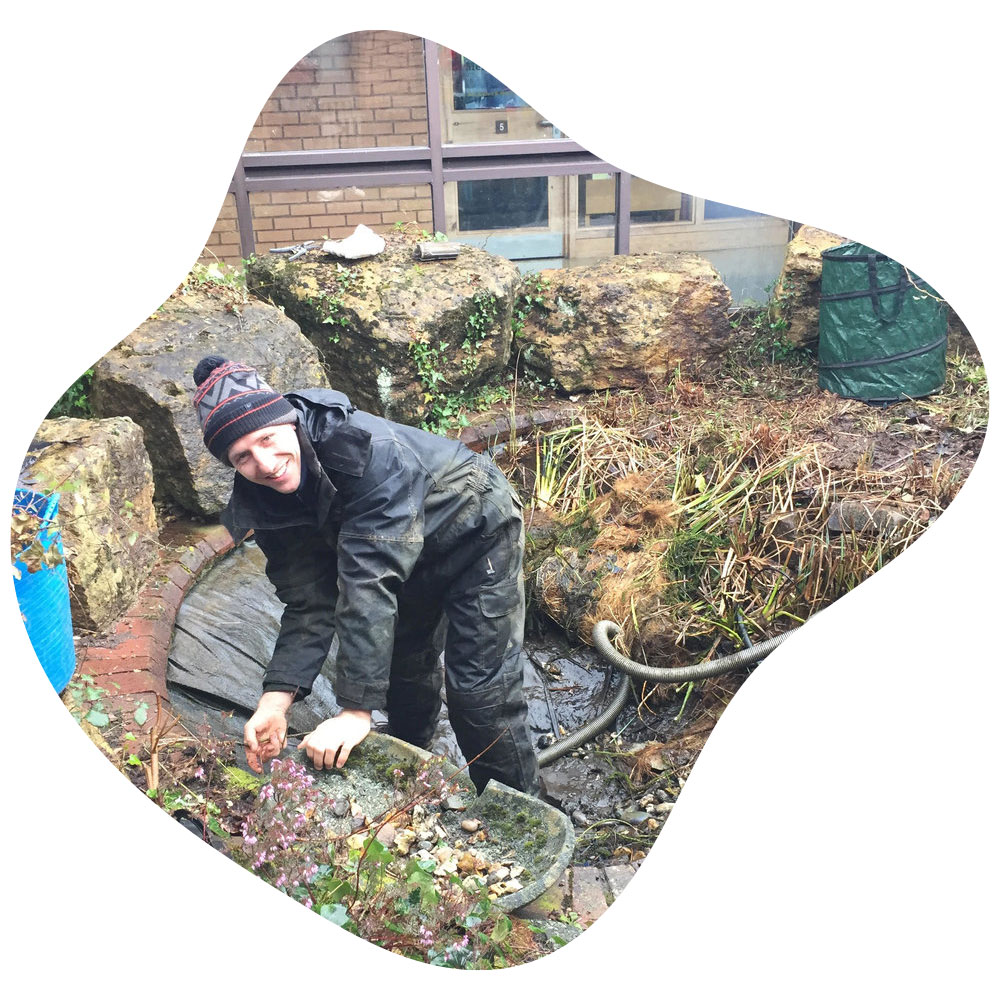 Why should my pond have a drain and clean?
Green water smothering a large pond
By removing this sludge from your pond before spring appears, your pond life is at its most dormant so we can cause the least amount of disruption whilst removing this excessively nutrient rich store, ensuring your pond or water feature becomes the much loved feature within your outdoor living space once again.
Cleaning out a pond can be a very messy task, draining all the water, trying to catch the fish, removing all decaying organic matter as well as all of the smelly fish waste, and of course power washing is not a job for the faint hearted and does not appeal to most. DU Waterscapes have all the correct and necessary equipment. We have the extensive experience needed to efficiently and effectively clean your water feature, whilst not damaging the entire balance of your ecosystem.
We recommend having a deep drain and clean at least once every two years between September and May to keep your pond's waters crystal clear.
Very Important Pond Packages
Although we offer one off cleans at the start of the year to everybody, we also offer a seasonal maintenance package to continue on from our drain and cleans, it could be somewhat compared to having your very own pond butler! You don't have to understand the ins and outs of how the seasons affect your water feature and which feeds to be added to the water to keep it in its best health for the coming months.
We cover all the essentials with one visit each season to ensure you have a healthy aquatic ecosystem. This will maximise your enjoyment from the water feature as well as ensuring all wildlife thrive.
Let us do the hard work
We are proud of our excellent customer service and our extensive experience in developing creative solutions to unique problems that each pond or water puts on us. This means you can sit back and enjoy living the water gardening lifestyle.
In addition to having seasonal maintenance visits you will receive a water quality or clarity treatment at every visit, so say goodbye to worrying about algae or green water. We also offer a discount on other products and services if you become a member of the DU Waterscapes VIP community.
Are you up for the challenge? Because we are ...
If you are up for the challenge of cleaning this mucky project yourself then we say Crack on! You'll need a power washer, a decent dirty water pump, some large tubs, small filtration unit or aeration unit for the fish and of course some wellies or waders!
*Face masks may be advised if it is your first time!*
Let's get started
Looking to get started?  Fantastic, we just need a few details from you.  
Please use our form below to give us as much information as you can about your project so that we can come back to you with the best way to create your dream water feature. Our form will request some recent photographs of your feature, the size and any relevant information such as type of pumps, date of last clean etc. so you will need to have these to hand before you start.
We strive to get in touch within five business days. But please bear with us if it takes us a little longer. We thank you for your patience while we are out making someone's back garden beautiful! Yours could be next!
In the meantime, feel free to stop by one of our display features and pop over here to check out our latest blog posts or recent projects.